Junie B. Jones and the Mushy Gushy Valentine
Written by Barbara Park
Illustrated by Denise Brunkus
Reviewed by Seorin K. (age 8)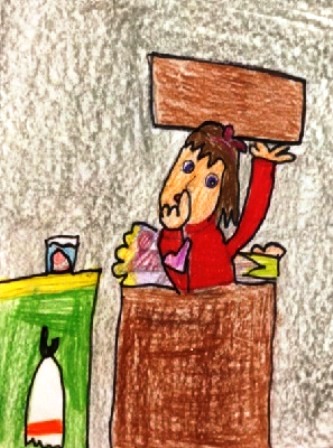 Dear Reader,
Do you like series books? Have you started reading any books from the Junie B. Jones series? Well, here is a book called Junie B. Jones and the Mushy, Gushy Valentine.
It's Valentine's Day and Junie B's class is decorating a box so everyone can put their Valentines in. Junie B. is very excited as she picks out her Valentines to give to her class. She is so surprised when she gets a Valentine from a secret admirer! She tries to find out who it is.
I think Junie B. is determined and funny when she's trying to find out who her secret Valentine admirer is! I think Junie B. is determined because when she gets the mystery Valentine she yells out to the class asking who gave it to her. Nobody dared to answer. You can see just by the cover that Junie B. is determined to see who her admirer was that day.
Another reason Junie B. is so funny is because when she was picking out her Valentine cards, she picked out a card that had a picture of a skunk for a boy she did not like named Jim, but when she finds out he's her secret admirer, she decides she likes him! She doesn't find that out until the end of the book.
That is why I think Junie B. Jones is determined and funny, and I think you will, too!
From,
Seorin