Perfect The Pig
Written by Susan Jeschke
Illustrated by Kris Nelson
Reviewed by Lucy C. (age 8)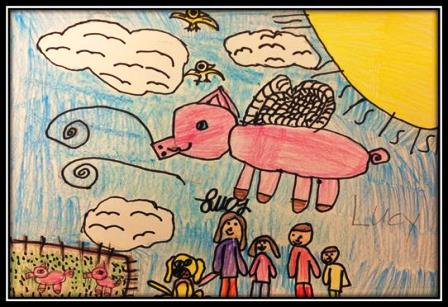 Dear Reader,
Do you like adventure stories and lots of action? Then you should read Perfect the Pig. I think that if you read this book you will agree that it has plenty of action, because when a man finds Perfect on a park bench he says, "Well I'll be, a pig with wings! My fortune is made!" But will Perfect ever get home?
All the adventure starts in the beginning when his brothers and sisters see his wings. They say, "Go sleep with the birds," but the birds wouldn't let him stay either. Where will he sleep? Perfect is in the bird's nest looking at the mother bird, who does not look so nice. What will happen to him?
Another reason this book is so adventurous is when Perfect finds himself in a small room he can't escape. A man is there who wants to train him to fly and he uses his belt as a whip. Perfect flies away too fast to get hit.
I also think Perfect and all the other characters in the book are very important to the story and it would not be a very good story without them because they bring all the adventure to the book.
So now if you like stories with action and adventure, then this is the perfect book for you!
From 2nd Grader,
Lucy