How to Speak Dog
Written by Gary Weitzman
Reviewed by Anthony B. (age 9)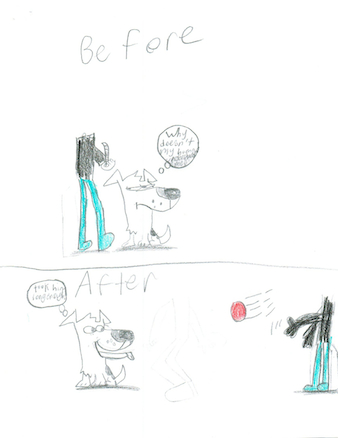 Do you want to know how to quiet your pesky, persistent, pooch? If so, then boy, do I have something for you! After you read this book, you will have a funny, friendly, fur ball that actually behaves! Now you don't have to struggle to teach your dog to do tricks, obey rules, or just be quiet.
Doctor Gary Weitzman is the master at understanding dogs. No wonder he is a veterinarian and dog expert! Throughout this book, Doctor Gary will show you hundreds of pooch pics, training tips, and cute quizzes! He even writes my favorite thing in the book. It's called, "What's this dog saying?" It shows dogs with weird habits. My favorite one is where a beagle squeaks on a car ride. I also love the pictures in the book. They have all kinds of dogs! From dachshunds to greyhounds, from Jack Russell terriers. They also have some crazy breeds like the Bugg, which is a bulldog crossed with a pugg. Or a goldendoodle, which is a golden retriever and a poodle - you get the idea.
I really do recommend this book for a lot of people. It can level up a dog expert's training. Also, if you have one or more troublesome pets who need exercise, tricks, or to behave, this is the book for you. Even if you just want entertainment, then Doctor Gary is your man! I give this book a five star rating because it is just wonderful. Now I understand my dogs!