The Heroes of Olympus: House of Hades
Written by Rick Riordan
Reviewed by Daniel V. (age 10)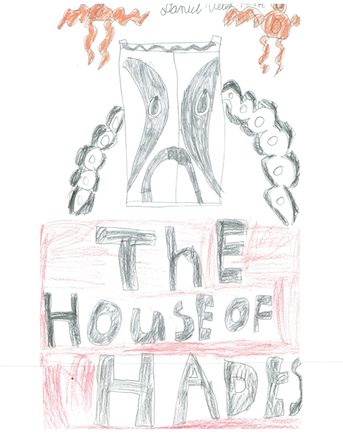 This is the beginning of my amazing book review of "The House of Hades" by Rick Riordan. The main characters are Percy, Annabeth, Leo, Hazel, Frank, Jason, and Piper. The setting is mostly at the high tech ship, The Argo II, and in the treacherous, most chaotic place ever. You will get the twisting feeling about what will happen in the next chapter! This description is just the beginning!
Percy and Annabeth face an enormous, world ending problem and have to get out of it - and it's life risking and torturous. Will they survive the brutal experience! Additionally, their friends have to go on a daring quest to get to the humongous giants that are children of the earth mother, Gea. That is a problem none of us could handle at all! I can relate to this because I have had problems before, but nothing this big. Also, I have friends that would always protect me if I got stuck in a bad situation.
I bet you will like how the author wrote funny things and very descriptive and complex words that I really like! I recommend this book! You should read it to find out if Percy and Annabeth make it out alive. Will their friends bet there to save them from the clutches? Nobody knows what will happen in this astonishing book. Read the book to find out what happens to all of them!