And the Dish Ran Away with the Spoon
Written by Janet Stevens
Illustrated by Janet Stevens
Reviewed by Loren M. (age 9)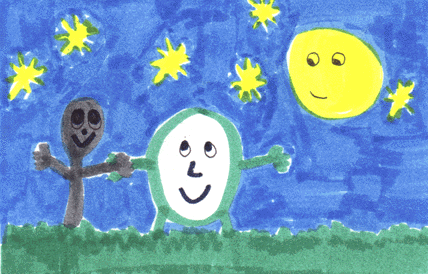 This story is like a nursery rhyme but not like the ones you might know. If you remember the rhymes like Hey Diddle Diddle, Humpty Dumpty, or Little Miss Muffett, you will understand this one. In this story the characters in Hey Diddle Diddle have just finished their rhyme, but the dish and the spoon run away and don't come back! It's up to the cat, dog, and cow to go and find them. They meet other nursery rhyme characters on their way to find the dish and the spoon.
The book was funny and the characters didn't talk like in the normal rhymes. It reminded me of the Stinky Cheese Man book where the stories and characters were a little different and kind of crazy. I liked how the author gave me clues in her writing about which nursery rhyme character was coming up next in the story. It was fun trying to figure it out.
I think older kids will like this story because they'll know about it already but it's not to babyish like for little kids. They'll like the jokes and funny writing a lot!