The Adventures of Benny and Watch: Meet the Boxcar Children
Written by Gertrude Chandler Warner
Illustrated by Daniel Mark Duffy
Reviewed by Melanie J. (age 9)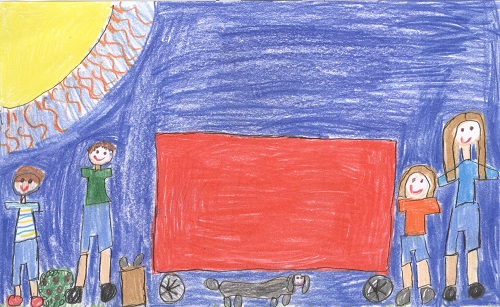 Have you ever felt really hungry? If you have, then you can relate to these characters. This exciting story is about four siblings who are orphans and they don't have a house and they are really hungry. Soon the children find a red boxcar that was cozy and warm. Will this be their permanent home? Will they find somewhere else to live? Can the children survive on their own? You have to read Meet the Boxcar Children to find out.
I really enjoyed reading the story. The words are easy to understand and the pictures are very realistic. They help bring the characters to life and are also really colorful. When the children found a cute dog, it reminded me of when my family found a pretty cat on the road, both had a happy ending. Boxcar Children is part of a series. You may like to read one of these books.
I think other kids should read this book because it has fantastic pictures and has 44 pages. The type of reader that would enjoy this book is a person that likes fiction books and books about families. You may find it interesting that young children can make the best out of a bad situation by working together.