Cabin Creek Mysteries: The Clue At The Bottom Of The Lake
Written by Kristiana Gregory
Illustrated by Patrick Faricy
Reviewed by Reid H. (age 8)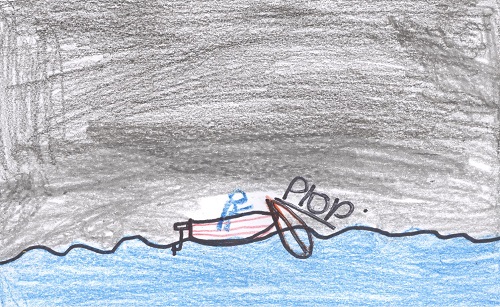 Do you like mysteries with a good synopsis? Then this is the right book for you! This book by Kristina Gregory is about when a mystery person throws a lumpy duffel bag in the middle of a lake in the town of Cabin Creek. The main characters are Jeff, David, Claire and three dogs named Yum-Yum, Rascal, and Old Tessie. Was it a murder or a robbery? You will have to read the story to find out.
This book is a part of the Cabin Creek Mysteries series by Kristina Gregory. I liked this book because it had a really interesting setting and a surprise ending revealing that the suspect was only mentioned once in the book. My favorite part was when Jeff saw the mysterious person throw the duffel bag into the lake off the boat. Jeff sounds like me because I am always ready for a mission and never give up. I think this book is really mysterious because an event might happen when you least expect it and that the boat that carried the suspect was stolen. If you want to find out how the mystery was solved, buy it at a bookstore. This book cannot be downloaded on a kindle or nook.
I recommend children from the ages 7 to 11 should try this book because it has really strong vocabulary and is 158 pages long. Some parts are scary or unexplainable and creepy scenes and you never know what's happening. There are always clues to be found. I hope you will buy this book sometime soon because you may enjoy it.