The Year of the Book
Written by Andrea Chang
Reviewed by Lily L. (age 8)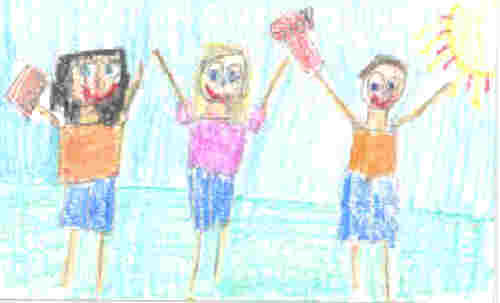 Do you want to hear about all the amazing adventures of Anna and Laura? Then you need to read "The Year of the Book" By Andrea Cheng right now.
To begin with, Anna and Laura are best friends. At one point in this story, Laura wasn't at school for a whole week. Her best friend Anne had no idea where she was. At another point of this story, Ray the crossing guard, was missing and then there was a substitute so Laura and Anne kept asking people where Ray the crossing guard went. Where could he be?
In addition, my favorite part of this book was when Anne and Laura made orange vests for themselves to help the substitute crossing guard while Ray was missing. This was my favorite part because it was funny that they were telling kids their own age when to cross the road and when to stop. I find Alison`s character to be very interesting because she acts so mean to Anne, but Anne is very nice. I think the only reason she acts mean to Anne is because she is jealous of Anne and Laura's relationship. Finally, I really like this book because Anne is a very interesting person and it was fun to read all about her.
In conclusion, this book would be perfect for girls ages seven to ten. If you like reading about two best friends, then this Florida Sunshine State Reader is for you!