Crispin: The Cross of Lead
Written by Avi
Illustrated by Tristan Elwell
Reviewed by Zosia S. (age 12)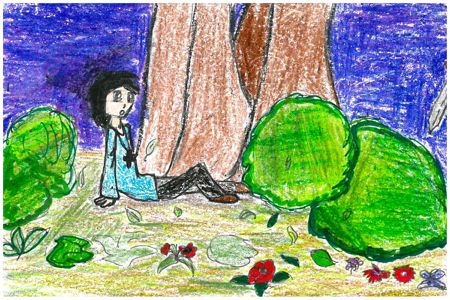 Do you like adventure or traveling? Well, if you do you might like Crispin. Crispin is a 13- year- old boy who lives in a small village with no one that loves him. He gets chased by a mean and cruel steward, John Aycliffe, who is eager to kill him. When Crispin's mother dies, the poor boy gets chased away to a forest. There he meets a jolly good fellow whose name is Bear. Bear makes Crispin vow to never leave him and that he will always do what he is told. While they are traveling they run into all kinds of interesting adventures. One time they were in a village and they found out that the steward and his men were following them. Their adventures were so amazing that I don't want to spoil it for you!
I think it is a well written book with fascinating characters, and interesting plot. I liked the drawings because they are detailed and inspiring. While I was reading I felt as if I were with Crispin, or maybe even Crispin! I didn't like the character Bear, because he would scare me and he was creepy looking. If I were Crispin I would run away from him and never make the vows.
My favorite part was the beginning, it was depressing but I got interested in it. It described how Crispin felt after his mother died, it was moving.
I recommend this book for grades 3 and up. I think that kids who enjoy the middle ages or adventure will fall in love with this book. I don't recommend this book to people who will not want to see what happens, because when I was reading I could easily predict the plot.