Crispin: The Cross of Lead
Written by Avi
Illustrated by Tristan Elwell
Reviewed by Anna F. (age 12)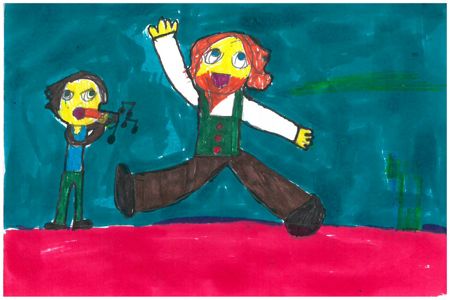 Have you ever wondered what it would be like to live in the Middle Ages? If you are interested in learning, you should read Crispin. Crispin is a story about a young peasant boy whose mother has just died. With all of his grief, Crispin has been hiding in the woods just outside of his village when it is dark. This, of course, is not allowed. So when the steward of his village, John Aycliffe, finds him, nothing good can happen. In this story, you'll go on an adventure with a boy on the run, and you will see all the changes, physically and emotionally, that he endures. Along the way, you'll meet his friend Bear and you will get to see the exceptional bond they develop and the struggles they overcome. Meanwhile, John Aycliffe is hunting Crispin because he has been accused of theft. Do you want to find out what happens? Read Crispin!
While I was intrigued by certain aspects of the story, this was not quite the book for me because it was predictable and the time period made it monotonous. I enjoy stories where you are unsure what is gong to happen next and that are set in modern times. I was a little bored while reading this story. However, some of Crispin's experiences do remind my of my own. For instance, Crispin spends much time in the woods. Throughout the story, Crispin changes emotionally and physically. He becomes stronger (and gets a haircut), and becomes culturally exposed and more accepting of other people. My friends and also I spend time in the woods in the back of my summerhouse. The character of Crispin reminded me of a boy from my old neighborhood because he spent a lot of time in the woods and really enjoyed nature.
Generally, I would not recommend this book because it was not a favorite of mine because I don't enjoy reading stories set in the Middle Ages. Also, I found it to be very predictable. Nevertheless, I think readers who enjoy an independent main character and a bold, daring plot may very much enjoy this story. If you enjoy adventure stories, you should read Crispin.