A Trip to the Planets
Written by F.R. Robinson
Reviewed by Lily L. (age 8)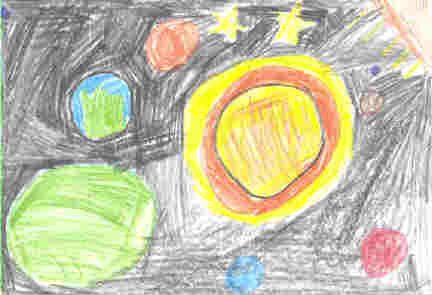 Have you ever been to space? Because if you haven't, you should read the book, A TRIP TO THE PLANETS by F.R. Robinson and illustrated by Jackie Snider.
To begin with, this story was about a girl named Fern who doesn't like summer. Every summer she always has to go to space with her parents. She wants to stay home with her friends and play! But who doesn't want to go to space! So she goes to space and she gets to see all of the planets and learn about them. Some things happen like a rock almost hits them and they run out of gas.
In addition, I enjoyed this book because there is a character named Fern that I thought was interesting. First off she has a family that goes to space every summer so that's amazing! To me that's interesting. Also something unique or special about this book was the family in the rocket or spacecraft didn't even have one, the family next door had one. I don't think any neighbor would happen to have a rocket. Also something about this book reminds me of my life because Fern didn't want to go on vacation and then she liked it. This is the same with me. A vacation I didn't want to go on was to Boston because I thought it would be too cold, but I had so much fun!
In conclusion, I think boys and girls who are eight or nine should read this book. Trust me, I`m picky about how long chapter books are and this one is just perfect! Go check it out today!