Dork Diaries:Tales From a Not So Popular Party Girl
Written by Rachel Renee Russell
Reviewed by Maureen H. (age 8)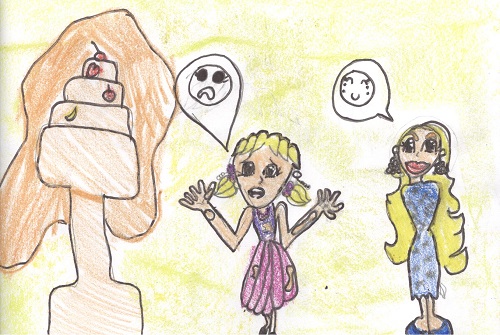 If you like books that you can't take your eyes off, this book will be perfect for you. The title of it is Dork Diaries a Not-So Popular Party girl. It is about a girl named Nikki Maxwell who messes up everything in front of the love of her life all because of the mean girl MacKenzie Hollister. But Nikki's best BFF's, Chloe & Zoey help her out. Chloe, Zoey, and Nikki plan to get MacKenzie back. They're always at school when MacKenzie messes things up. Sometimes, Nikki's just at home sulking about how bad her life is. If you want to find out what Nikki's life is about, READ THIS BOOK!
I thought this book created a lot of mixed emotions. That's what made the book really good. I liked the book because Nikki reminded me about myself. It's because we both have really big dreams. I found MacKenzie sort of like me, too. We both adore fashion, especially makeup. This book is like this other book called The Cat Ate My Gym Suit. Marcy, one of the characters in the other book and Nikki both don't want to be themselves. That was also a good book. Dork Diaries Not-So Popular Party Girl actually brought me laughing out loud at some parts. The hysterical part was when Nikki suggested being a trash bag for a Halloween Party. Then Chloe and Zoey said, "That is such a lame idea," but then they agreed when Nikki got a beautiful dress to wear. So she kept changing into trash bags, sunglasses, wigs, and mops for the party. It was so funny. In one part it was sort of sad, too. The sad part was when the Halloween party was almost cancelled all because of MacKenzie.
I recommend this book for 8-10 year old girls. If you like books that create many emotions this will be the best book for you. It has 279 pages, so it is great for 3rd – 4th grade girls.