Katie Kazoo Switcheroo Freinds for Never
Written by Nancy Krulik
Illustrated by John & Wendy
Reviewed by Kaitlyn B. (age 8)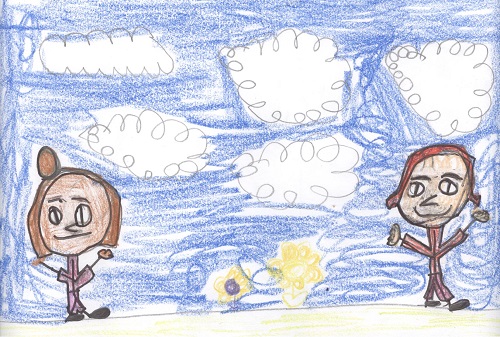 This book is in a series called Katie Kazoo Switcheroo. The characters are Katie, George, Jeremy, and Suzanne. Katie always changes into different people. That is why the series is called Katie Kazoo Switcheroo. George make's jokes about people that hurt their feelings. Jeremy is Katie's best friend. Finally, Suzanne is also Katie's best friend, she is into fashion. In this book Katie and Suzanne say they're for never. Suzanne has a fashion show to do, but she is a little nervous. Will Katie save her best friend or will she make Suzanne quit modeling forever? Read this book to find out.
This book was very funny when Katie wore her pants backward at the show and at school. It says she did it at school because at the show people were making fun of Suzanne so Katie wore her pants backwards because she is Suzanne's best friend. I thought it was funny when Suzanne was wearing her high heels. I think it was funny because it says in the story that she tripped and fell on the ground. I think I would fall and hurt myself in high heels. I think the author should change this book a little. Instead of Katie turning into Suzanne I wish Katie turned into Jessica because she was being mean to Suzanne. So if Katie turned into Jessica then Jessica would be nicer to Suzanne.
I recommend this book for girls because there are mostly girl characters. It is an adventure book so kids who like adventures will like this book. I recommend this book for third through sixth graders.