Snake Camp
Written by George Edward Stanley
Illustrated by Jared Lee
Reviewed by John R. (age 9)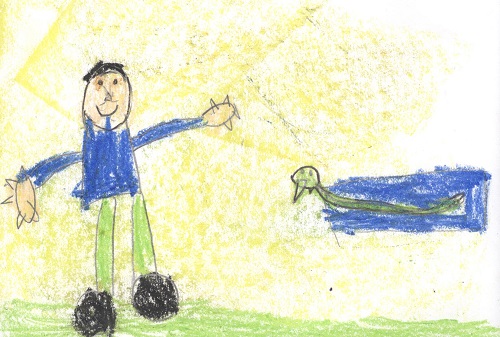 Stevie Marsh is going to snake camp for vacation. He meets a new friend. His name is Jordan. He tells Stevie that he will have a great time at Camp Viper, but Stevie hates snakes. Stevie makes a plan that he will pretend that he already has a snake. When everybody went to the snake house he told Tim that he already had a snake. If you want to find out if Stevie gets used to snakes, read the book and you will find out what happens.
My favorite part was when Stevie poured Jell-O on Jordan's head. I liked it because that was funny. I liked the illustrations because they were cool. They were cool because one of them was a bus and it was green and also it had a snake on it. I would like to ride in a bus like that. The book made me feel good because Stevie went to snake camp and I would like to go to snake camp. I would like to study snakes there. That is what I like about this book. I really liked this book.
I recommend this book to people who like snakes. If you do, you might like Snake Camp. It has snakes inside and they're really cool to look at. Those are some reasons why you might want to read this book. This book is good for kids in grades 2 to 4.