Geronimo Stilton: All Because of a Cup of Coffee
Written by Geronimo Stilton
Illustrated by Larry Keys
Reviewed by Hailey C. (age 8)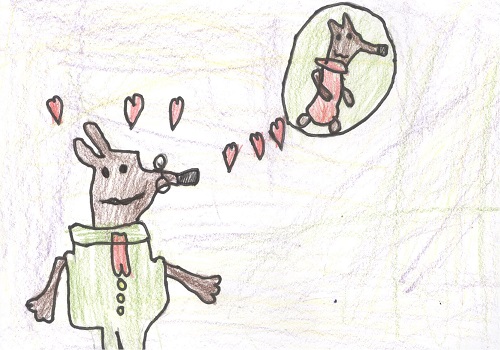 If you are interested in mysteries then this is the right book for you. The main characters in All Because of a Cup of Coffee are Geronimo, Thea, Trap and Benjamin. Geronimo runs a newspaper called Rodents' Gazette. Thea is Geronimo's sister and she loves adventures. Trap is Geronimo's cousin. He is the owner of Cheap Junk for Less. Benjamin is nine and he is Geronimo's favorite nephew. All these characters are mice who walk and talk like real people One day Geronimo went to get some coffee and he met the most beautiful mouse in the world. Geronimo was in love. If you want to find out more then you should read All Because of a Cup of Coffee.
My favorite part in All Because of a Cup of Coffee is when a big block of cheese fell on Geronimo. He kept trying to get out and finally he did get out. It was my favorite part because it was so funny. In the book Geronimo changed from being sad to being happy. In the beginning the mouse of his dreams broke his heart. Geronimo was filled with tears until his new adventure began. Going to a new island helped Geronimo forget all about his love. This book is in the Geronimo Stilton series. In all the books they go on adventures. They are different because in each book they go to different places for their adventures.
I would recommend this book for grades 3rd to 5th. If you are into mysteries then you'll love this book. Go to a book store to buy it before it is sold out.