Gremlins Don't Chew Bubble Gum
Written by Debbie and Marcia Thorton Jones Dadey
Reviewed by Venus H. (age 8)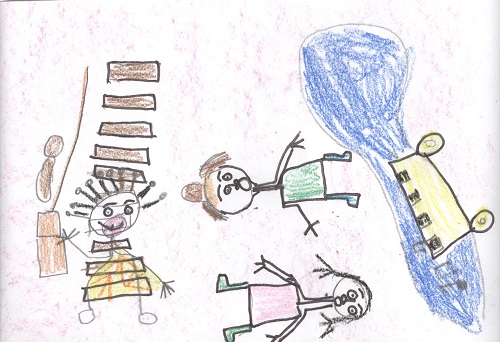 If you like the Bailey School kids this is the book for you. It is in that series. This book is about four kids who are trying to get rid of a gremlin who is taking over their school. Melody, Liza, Howie, and Eddie are in third grade in Bailey Elementary School. There is a secretary, Mrs. Moore, who went away so the gremlin took over for her. Will the kids get rid of the gremlin before Mrs. Moore comes back? You will have to read the book to find out.
I really like this book. My favorite part was when the gremlin tried to fix Howie's airplane. When Howie flew the airplane in class it almost hit Mrs. Jepper. That was funny. This book is like another Bailey School book, Martians Don't Take Temperatures because in that book a Martian is trying to be the school nurse. Melody, Liza, Howie and Eddie are trying to find out if she is from another planet. In my book they're trying to find out where the gremlin came from. I like this book because it was very interesting and it surprised me at the end. I like the character of the gremlin the best because every time she messes up something she would get a charm on her bracelet.
I recommend this book to kids aged 6 to 9 years old. This book is for girls and boys who like mysteries. This book has 80 pages. This book is a Bailey School book and they are all science fiction with gremlins and Martians, etc., so I recommend this book to kids who like science fiction books.