Thea Stilton and the Secret City
Written by Geronimo Stilton
Reviewed by Troy W. (age 9)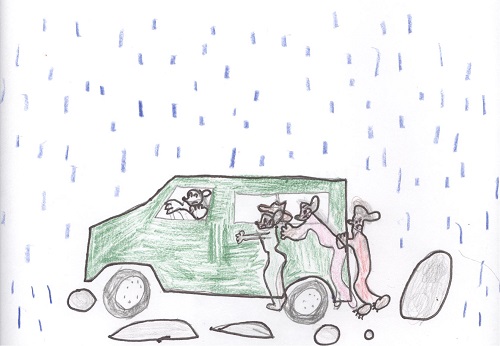 This book, Thea Stilton and The Secret City, is in the Thea Stiton series. If you like mysteries then you should read this book. It's about five girls named Colette, Violet, Nicky, Paulina and Pamela. Colette is very particular about what she wears. Violet is afraid of heights. Nicky loves the outdoors. Paulina is a computer genius and Pamela can fix anything. The people in this book are mice. They try to find the Secret City. They also try to find the professor's son. Do they find the Secret City and the professor's son? You can find out if you read the book, Thea Stilton and The Secret City.
I liked this book because it was very cool when there were a lot of traps in the Secret City. One of the traps was when the floor started to split in half. Luckily they escaped. It was also very interesting how they opened the Secret City's door. I thought it was very interesting how Paulina found out how to open the Secret City door. I also like how the author makes the words pop out. Some words are different colors and shapes and sizes. Some words are pink, blue, green, yellow and orange. Some other words BIG and some are small. And some words are both.
I would recommend kids aged 7-10 to read this book. I think that because it only has 161 pages. This is an adventure book and kind of a mystery book, too, so it would be good for kids who like mysteries and adventures.