Amazing Days of Abby Hayes, Look Before You Leap
Written by Anne Mazer
Reviewed by Carlie T. (age 9)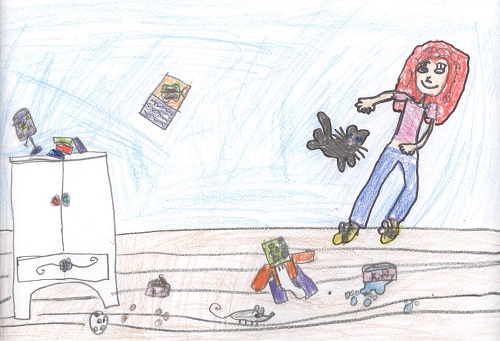 This book is called Look Before you Leap. It is from the series The Amazing Days of Abby Hayes. In this book there is a girl called Abby and she has nothing to do during the summer. So she wants to get a pet, but her super sib Alex is allergic to animals with fur. Also, their family is planning a vacation. But they can't figure out what they want to do. If they don't figure out what they want their vacation will be cancelled. Will their vacation be cancelled and will Abby get a pet? Read the book to find out.
I really liked this book. I liked it because the author Anne Mazer makes the chapter headings into calendar pages since Abby loves calendars. Then Abby writes a sarcastic or funny sentence about what the calendar says. I also liked is book because Abby writes in her journal. She uses a different font for her journal so you know when she is writing in her journal. This book doesn't have too many pictures, but there are some small ones. I like the pictures because they are funny. They are funny because they show what Abby imagines when a person says a funny sentence. That is why I really like this book.
I would recommend this book to grade 2 to 4 because it can be tricky but also easy at times. This book is a girl book because it gives advice for a girl. That is why I recommend this book for second to fourth grade girls.