The One and Only Ivan
Written by Katherine Applegate
Reviewed by Sophia S. (age 9)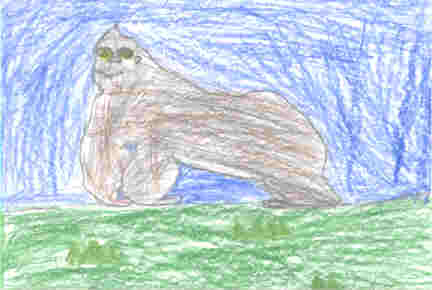 Being a gorilla is not easy! Come join Ruby and Ivan and don't forget to have fun reading!
Ivan is a silverback gorilla who was captured when he was young. He was placed in a circus in a shopping mall. This book is about Ivan and his friends that live in the shopping mall. Ivan made friends with many of the animals and a little girl named Julia. He like to paint and talk to the other animals. One day Ivan moved to a zoo to live with other gorillas and monkeys. He was happy to be outside again, but he was still in captivity.
I thought this book was slow moving. I thought this because it talked about some events for too long. There were many parts that I felt were sad or boring. One example of a sad part was when one of the animals died. It was hard to read that part! It was not a favorite book of mine because the topic sounded good at first, but then it was hard to finish.
In conclusion, if you like gorillas you might really like this book. It is good for 3rd grade and up.