The Wolf's Chicken Stew
Written by Kieko Kasza
Illustrated by Kieko Kasza
Reviewed by Sara H. (age 6)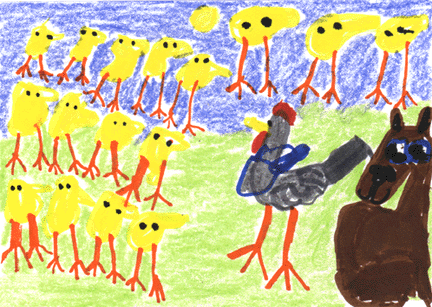 This is the story of a wolf that is always hungry. One day he sees a chicken and decides to fatten her up so he can make lots of chicken stew. He feeds her pancakes, donuts, and cake.
I really like this story, but at first it made me nervous because I thought the wolf would eat the chicken. My favorite part is when the chicken tricks the wolf. I liked pictures in this book because they have pretty colors and the food pictures made me hungry. The best character is the wolf. I like the look on his face when the chicken tricks him.
I would like to have some chickens to feed and take care of and play with. I think kids like me, who like chickens, will like this book.