Nugget and Fang: Friends Forever--or Snack Time?
Written by Tammi Sauer
Illustrated by Michael Slack
Reviewed by student in Mrs. Carothers' Chicklets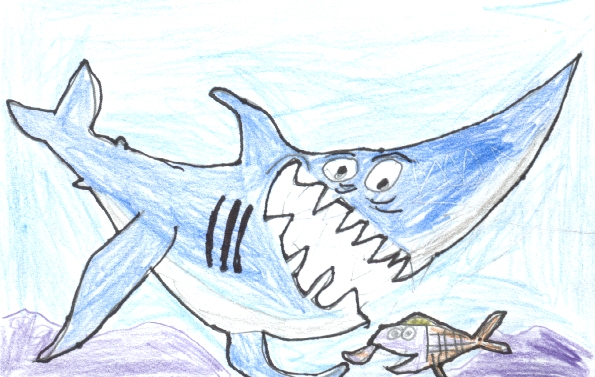 This book is about a minnow named Nugget and a shark named Fang. The setting takes place under water. They were best friends and did everything together until Nugget had to go to school. At school, Nugget learns that sharks eat minnows. Nugget feels shocked, devastated and concerned when he finds out his best friend is dangerous and he shouldn't be friends with him any more but he wants to be friends. There are a lot of fish that are afraid of the shark. Read this book to find out if Fang eats Nugget or if they keep their friendship forever.
We liked Nugget and Fang because the minnows in the school thought that sharks are really mean to minnows but in the end they changed their mind. We liked the part of the title "Friends Forever or Snack Time?" because it gets your attention and gets you into the story. The book is interesting because it's part funny and part sad. We liked the illustrations because we liked the shades of the colors. We liked the illustration where Fang is smiling because his smile went up to his cheeks and his eyes were up and his nose was down. He had a BIG, BIG smile! We liked the illustration on the cover when Nugget and Fang were high-fiving because they are friends and they like each other. It was awesome when Fang dressed up as a mermaid because it got our attention. We liked the part when Nugget and Fang were friends because it was really nice. We liked when Nugget went to school because in math, science and reading he was learning that all sharks were dangerous and sometimes he had a hard time believing that.
We recommend this book to people who like funny and interesting books about friendship. We think that kids in preschool through 5th grade and everyone else would enjoy reading this book.