Ruthie and the (Not So) Teeny Tiny Lie
Written by Laura Rankin
Illustrated by Laura Rankin
Reviewed by student in Mrs. Garard's 1st Grade Class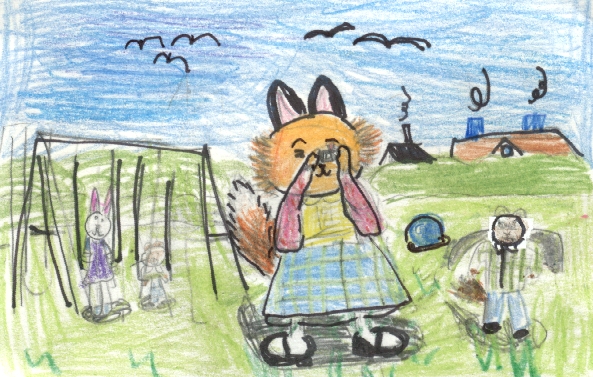 This book is about Ruthie. She loves little things like teddy bears that were barely there and an eggshell from a humming bird. She finds a little camera that is not hers. She made a mistake. She lies to her friend Martin and her teacher and says that it is hers. She said it was for her birthday but it wasn't. She found it on the playground. She feels sad and sorry for herself because she lied and she wishes she hadn't. Read the book to find out if she tells the truth or not.
We liked it because there was a lesson about lying that kids could learn. We liked the part when Ruthie found the camera and says "Say, cheese clouds." Click! and took a picture because it was funny. This book reminds us of when we lie. We feel gloomy and sorry for ourselves and worried that we might get in trouble. This book reminds us of the book "Good Night Gorilla" because the gorilla took the keys from the zookeeper.
We think preschoolers to 2nd graders would enjoy this book because older kids may already know not to lie. This is a great story if you like to make connections to your books. We think kids will love it because it's a pretty good story.