Stone Fox
Written by John Reynolds Gardiner
Illustrated by Marcia Sewall
Reviewed by V.G. (age 9)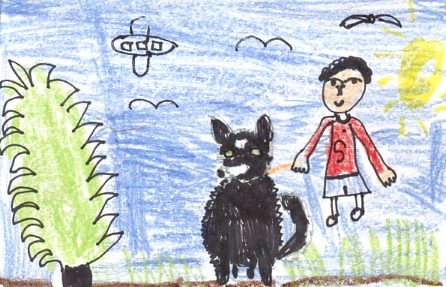 Are you into dog racing and surprise endings? If you are, then you have to read this book! Stone Fox is about a little boy named Little Willy who wants to help save his grandfather's Farm. In order to save the farm he needs $600. Then one day he goes to the bank and sees a poster that says, DOG SLEDING RACE REWARD 600 DOLLARS! Willy stood there with his mouth open. "600 Dollars," Willy said with hope in his heart.
So he hurried home to get his dog Searchlight and he thought for sure they would win because Searchlight is the best dog racer Little Willy has ever seen. So, finally the day came and Little Willy felt better then ever. He went to the starting line and there was Stone Fox! A dog racer who never lost a race in his life! "How am I supposed to beat him?" Little Willy thought. If you want to know what happens in the race with Little Willy and Stone Fox then you will have to read this book.
I love this book because there is a big shock that you will never guess at the end. My favorite part in the book is when Little Willy is at the starting line. He looks up and sees Stone Fox and begins to worry. I pretty much loved all the characters. My favorite characters are Little Willy and Stone Fox. I know you're thinking what? Stone Fox? Why? But he does a great act of kindness at the end. This book is not like any other books I have ever read. This book is sad and heartwarming at the same time. It always keeps you wondering what will happen next.
I recommend this book to grades 3-5. If you like twists at the end of books, dogs, and dog racing than I recommend this book for you. The thing that interests me the most and touches me the most is that Little Willy will do anything to help save his grandfather's farm.