Sideways Stories from Wayside School
Written by Louis Sachar
Illustrated by Julie Brinklo
Reviewed by R.T. (age 8)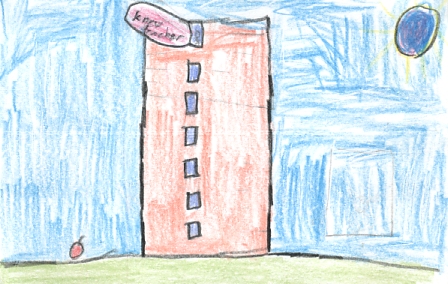 Do you like interesting stories about school and students, then this is the book for you. In this book there are 30 characters. There are thirty stories and thirty levels of the school all stacked the wrong way. Each chapter is about one kid in the class. In the beginning there is a teacher named Mrs. Gorf and she gets turned into an apple. Then they get a new teacher named Mrs. Jewels who is not used to being around kids, so she calls them monkeys.
I liked this book. It had a lot of humor and it was silly. My favorite part of the story is when Mrs.Gorf got turned into an apple and when Mr. Jewls thought the kids were monkeys. I like the chapters in this book because they all talked about each kid and what their personality was like. I like these characters because they all have a lot of humor and they will make you laugh. Some characters I liked are Miss Zarves, three Erics and Terence. I would give this book five stars. You might too!
I recommend this book to people who like funny stories. This book is good for people who are ages 8, 9 or 10 and third or fourth grade. If you like interesting and humorous characters, I think Louis Sachar makes this book really interesting and funny by adding a lot of detail. I think the illustration are really well done and you will love it.