A Tale Dark And Grimm
Written by Adam Gidwitz
Reviewed by P.A. (age 8)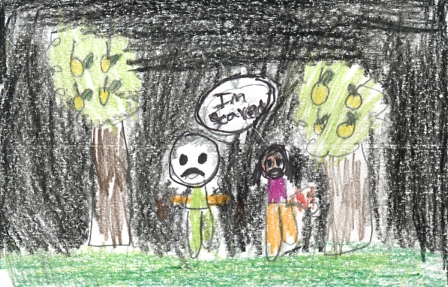 Are you prepared to be scared? This book will bring you to the edge of your seat. A Tale Dark and Grim is about two kids who's names are related to a fairytale. Their names are Hansel and Gretel. They start off in a kingdom. They are a prince and princess. But then they leave because their parents do something really mean. That you have to figure out. And because they did that very mean thing they end up having an adventure. Read the book to find out what kind of adventure they had.
I could not put this book down. The author was really descriptive and had a lot creative ideas, like golden apples. Another reason I liked this book is because I learned a good lesson. I learned that no matter what you do you should always be brave.
I recommend this book to people who are ages 9 and up. It is good for those ages because this book has a lot of scary parts in it. This book might interest readers by how the characters react. I hope you enjoy A Tale Dark and Grim. It is REALLY REALLY good!