The Girl Who Could Fly
Written by Victoria Forester
Reviewed by L.L. (age 9)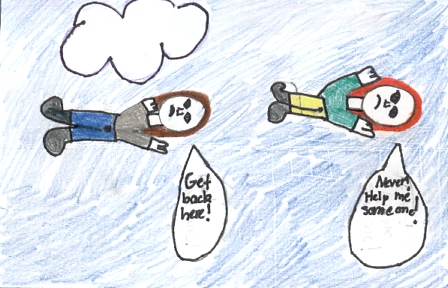 Do you like adventure books? If so, then this is the book for you!
Piper McCloud decided to jump off the roof of her barn. She had been able to fly a foot off of the ground since she was a baby. One day, she had a plan. Her plan was to run as fast as she could…and jump off the barn roof! If she fell…you don't need any plans from then on… even Piper knew that. Before we keep going, let me tell you a little about Piper McCloud. Piper is ten years old and lives on a farm with her mama and poppa. They live in Lowland and their family has lived there practically forever. When Piper jumped off of the roof, someone spotted her! Headlines flashed. The news spread! Flying Girl! A few days after the jump, a lady named Dr. Helion came and brought Piper to a place for children with special abilities. Piper tries to escape with her friends; she finds that she's being held captive! Will Piper and her friends be able to escape? Or will Dr. Helion keep them captive longer than they had hoped for?
I loved this book because I could never put it down – it's a real page turner. It was exciting and every time I put it down, I was left hanging. This book is one of my favorite books because I felt like I was in the book. This book made me think about me and my brother playing a game where one person is in a room trying to get out, and the other person is guarding the doors of the room. This reminds me of Dr Helion and Piper when Dr. Helion wouldn't let Piper out and she was trying to escape!
I recommend this book to 2nd graders and up to read. It was exciting and allows you to use your great imagination. It was very surprising when Piper jumped off the roof and started flying because you don't really expect humans to fly.
This book was a lot of fun …ENJOY!!