Salt In His Shoes
Written by Deloris Jordan
Illustrated by Kadir Nelson
Reviewed by K.F. (age 9)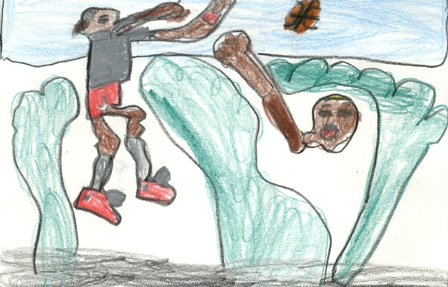 Are you a fan of basketball? If you are, you should read this book called Salt in His Shoes. Michael Jordan walks to the park with his brother's Larry and Ronnie every day and there is always a bully named Mark. Mark is always picking on Michael because he is the shortest. Michael gets tired of being teased so he asks his mom, "How do you get taller?" His Mom tells him "salt". That night when he goes to sleep, his mom puts salt in his shoes and prays for him to get taller. To see if the salt works, read this book to find out.
I like this book because I am a lover of basketball and I'm a fan of Michael Jordan. My favorite part of this story was when Michael realized he could do anything that he put his mind to. This book reminds me of the first year I played in a new league. I was the shortest person on the team and some people thought I wouldn't be a good player and it turns out that I was a better player than they expected!
I recommend this book to kids who like sports. This book is good for all grades and for parents to read to their kids. Salt in His Shoes teaches a lesson which is not to bully others.