Leonardo the Terrible Monster
Written by Mo Willems
Illustrated by Mo Willems
Reviewed by E.S. (age 9)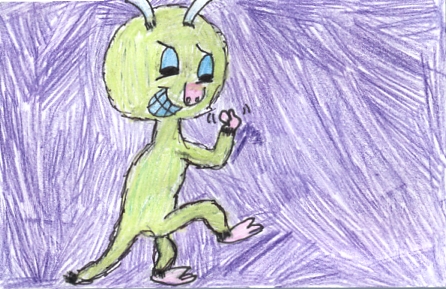 Have you been seeking a funny tale about a terrible monster? Then you will love this book! No matter how hard Leonardo tries to scare the tuna salad out of someone he just can't! People think he's cute and Leonardo can't stand it anymore. When he decides to try to find the most "scaredy-cat kid" in the world and succeeds things don't really go as he planned. Read the book to find out what happens to Leonardo and the most scardy-cat kid in the world, Sam.
This book is one of my old favorites and I would easily give it a strong ten out of ten. The illustrations are funny and very enjoyable. One of my favorite parts of the books is when Leonardo gives it all he's got to scare Sam, a really scaredy-cat kid. Leonardo reminds me of myself because he is very persistent when he tries to scare someone. That relates to me because I'm persistent too.
I recommend this book to kids of all ages. If you like reading with expression, and attiude, then you will love Mo Willems writing. Some other books he wrote are Piggy and Gerald, Don't Let the Pigeon Drive the Bus, and Knuffle Bunny. Looking for a short story, well here you are.