A Tale Dark And Grimm
Written by Adam Gidwitz
Reviewed by E.L. (age 9)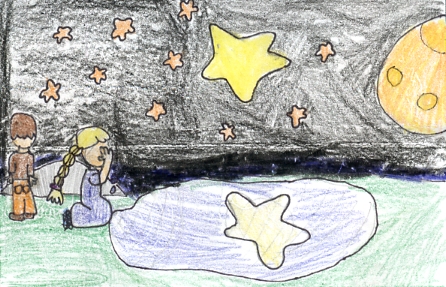 Once upon a time fairy tales were awesome. Seriously, I am not kidding. This book told me so! For example, when do you see bears owning a nice cottage? Never! But once I met the fine fellow who narrates this book the story got me excited. Like for example, brothers of all kinds turning to crows. I like that part. And when there was a city that got attacked by a dragon. Now that's impossible. But this book is the real story of Hansel and Gretel. It's true! Anyway, this book might be fun but it is also scary in parts. For example, magic curses that are evil, the devil, oh and I can't forget this…The BLOOD! Her are some exciting parts if you don't mind…Gretel; began to weep and her tears fell in the shimmering lake. When the landed, thy shook the reflection of the stars". "Whose tears have woken us?" the stars asked. At first, Gretal and Hansel, her brother were afraid. Did stars eat children? But the shining stars seemed far more nicer than the blistering sun and the creepy moon. So she told them all her troubles. My favorite part was when they fought the dragon in the second to last chapter because it got me thinkint what's gonna happen next!!! This book is unique because it has a host to help understand this story. This book makes me wonder like when the time they went to a forest. I wondered if they were going to stay in it because one tree talks!
I thought this fascinating book was really scary, fun, AND exciting at the same time! It was amazing because they combined Hansel and Gretel, The Seven Swallows, and the Three Golden Hares into one great book. I also liked when the author played jokes and tricks on the reader, like when it says THE END when it really isn't.
I would recommend this book to people who like – I mean LOVE – terrifying stories! The author is Adam Gidwiz. If you like his books, then read this one! If you like Hansel and Gretel and scary stories, this is the book for you. In my opinion, this book should be for 8 years old and up because this is a really scary book. It can give little kids nightmares! If you want to find out what happens in this book, read it if you dare!!