Horrid Henry Robs the Bank
Written by Francesca Simon
Illustrated by Tony Ross
Reviewed by D.G. (age 9)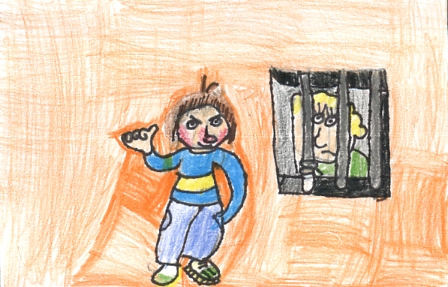 Horrid Henry is a boy who lives with his mom, dad and brother. His brother's name is Perfect Peter. Horrid Henry is a horrid boy. One time, he wrote a newspaper with gossip about the school nurse, principal and his teacher. He wrote that his brother Perfect Peter was sent to prison. This book is hilarious! It almost made my stomach ache from laughing. He gets into lots…I mean, lots, of trouble.
This book reminds me of my brother, because he does some of the same things Henry does. My favorite part was the gossip, lies and mischief. This book reminds me of Diary of a Wimpy Kid because of all of the trouble Henry gets into. The character I did not like was Perfect Peter because he was always acting like a baby, whining and complaining about everything.
I recommend this book to kids who are 8 or 9 years old. I also recommend this book to children who like laughs and mischief. The best part of this book is that it is one in a series of 14 books!!