The Fenway Foul-Up
Written by David A. Kelly
Illustrated by Mark Meyers
Reviewed by A. W. (age 8)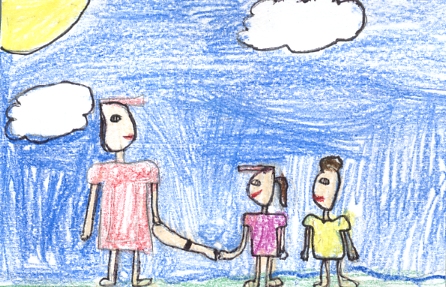 Are you into mysteries and sports? If you are then this is the book for you. This book is about a boy named Mike Wash and a girl named Kate Hopkins. Kate's mom works on the sports channel and got them tickets to the Red Sox game! All of a sudden, something is missing. Famous baseball player Big D's lucky bat is gone! Without Big D's lucky bat they will never win! Some suspects are the photographer because he got to got to the locker room after the game. The souvenir stand lady because she owns some bats that look exactly like Big D's and a person sitting near the batters box eating sunflower seeds because Kate an Mike saw sunflower seeds in the locker room. Will Kate and Mike find Big D's bat? Read this book to find out.
I think this book is great because it has a very good mystery. I love mysteries because it always leaves me hanging and I want to keep reading. My favorite part of the book is when Big D's bat gets stolen because that is when the mystery begins. One time someone stole my folder. He stole my folder because Alexander and Alexandra sounds a lot a like so he thought it was his. I also think this book is great because I really could feel the characters feelings. For instance, when Big D's bat was stolen, I could feel that he was very sad. I love that in the end Big D gave Mike a baseball that was signed by all the players and Kate a replica of Big D's bat.
I would definitely recommend this book to kids that are into the mystery genre and sports. The setting of this book is in a ball park. The ball park was a perfect place for a good mystery! This book is perfect for second grade and third grade. This author leaves you wondering what clues Mike and Kate will find next in the ballpark.