Diary of a Wimpy Kid: Rodrick Rules
Written by Jeff Kinney
Reviewed by A.R. (age 9)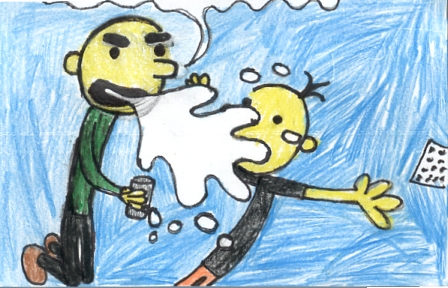 Do you like hilarious jokes and pranks? If yes, then you will like this book. This book is about Greg the middle schooller, Rodrick the high schooller and Manny, his little brother. Rodrick and Manny are always trying to annoy Greg. For example, Manny wrecked Greg's video game on purpose then lied to his mom. Rodrick stole Greg's diary to give it to a girl named Holly ,that he was secretly in love with. I feel bad for Greg because he always gets so embarrassed and annoyed. I think you should read this book because its a hilarious comedy and if you have mean brothers than you can relate to this.
I liked this book because sometimes I can relate to it. It is about jokes and pranks and the jokes are insanely hilarious. I love this book and if you're a fan of hilarious jokes and pranks, you'll like this book.
I recommend this book to 3rd grade – 6th grade. I like this book because it's about all these crazy funny adventures. The author made it a cartoon and wrote it like how Greg the middle schooller would write it because its Greg's personal journal.