The Legend of Spookley the Square Pumpkin
Written by Joe Troiano
Illustrated by Susan Banta
Reviewed by K.H. (age 9)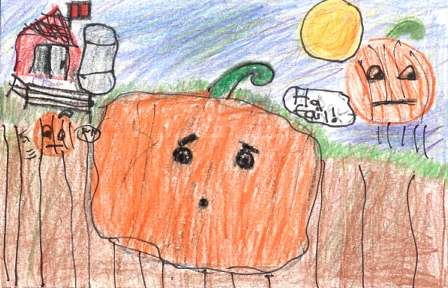 One day in the pumpkin patch the strangest little pumpkin "hatched." Spookley is a square pumpkin and everybody makes fun of him even though they have never even talked to him. Spookley felt bad and wanted to roll like the round ones but he had to stay put. But one Halloween night when a bad storm was approaching, Spookley was proud to be a square pumpkin. But why…read the book to find out.
I think this is a great book. It has great pictures and it teaches about not making fun of people by just looking at them. My favorite part is when Spookley saves the day. Spookley was shy and didn't stand up for himself when he was getting made fun of. In the book the illustrations were great. Most of them really describe what's going on. It's unique because every sentence has at least one rhyme. It's like no other book. It's different, like Spookley.
You need to read this book if you love rhyming and fiction. This book is for all ages because it doesn't include many pages or many words on each page but the pictures help tell the story. The setting is recent and at a farm. Spookley has many different personalities.