I Survived: Hurricane Katrina
Written by Lauren Tarshis
Illustrated by Scott Dawson
Reviewed by C.B. (age 8)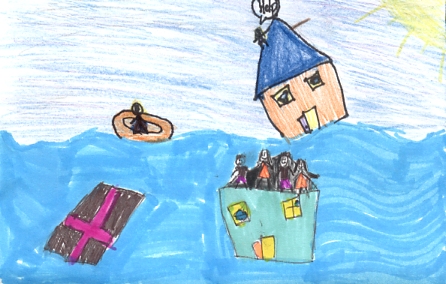 In the book I Survived Hurricane Katrina, Barry's hanging out with his friend Joe, while Barry's family is getting ready for Hurricane Katrina. The family thinks its not going to be so bad, but once it hits, its horrible. When Barry wakes up, he sees the whole house starting to flood. He runs up the stairs with his family to the attic, when the water gets higher. You'll have to read the book to find out what happens next, and whether they survive.
I liked the book because I enjoy historical fiction and I liked how it gives factual information about what happens in the hurricane. I really wanted to learn what Barry is doing to save his family.
I recommend I Survived Hurricane Katrina to people who like exciting, historical fiction series. I think you will like it because it sounds so real.