Charlie and the Chocolate Factory
Written by Roald Dahl
Illustrated by Quintin Blake
Reviewed by A.V. (age 8)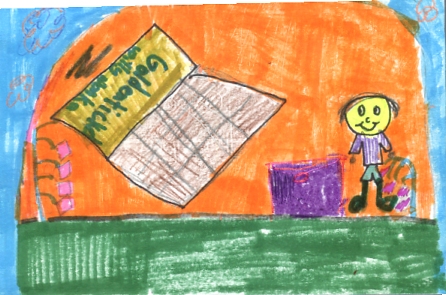 The book is about someone named "Charlie Bucket", who lives in a very small cabin. He has two sets of grandparents that live with him: Grandpa Joe, Grandma Josephine, Grandpa George and Grandma Georgina. He saw in the newspaper that if you get one of Willie Wonka's chocolate bars and you find inside a golden ticket then you can go to his chocolate factory…Read the book to find out who gets the tickets and what happens.
I really liked the book because when Charlie and everyone go to the factory they are very funny characters! My favorite part in the book is when the characters go on a ride on the chocolate lake because I love chocolate! In this book everything goes crazy when everyone gets trapped or gets stuck in parts of the factory. This book reminds me of another book called "Georges Marvellous Medicane" by Roald Dahl.
Do you like chocolate? Do you like candy? Then this is the book for you. This book is very funny! You will never let this book go. This book makes me really hungry. Roald Dahl is a very funny author who writes about very funny characters. The characters have very silly personalities.