The Digging-est Dog
Written by Al Perkins
Illustrated by Eric Gurney
Reviewed by M.J. (age 9)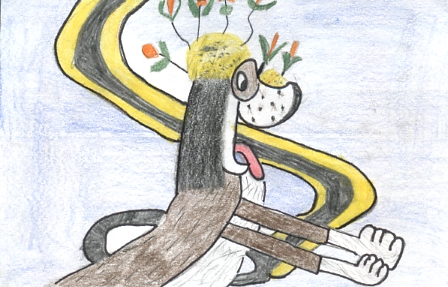 Have you ever had a dog that couldn't dig at all? Well, this one can't dig, not one bit! His owner Sam bought the dog and named it Duke. Sam brings Duke back to his farm and blows a whistle and lots of other dogs come running at Sam. They started to dig. Duke tried to dig, but he couldn't dig. He tried and tried for many days. Then one night something unbelievable, incredible and special happens. Read the book to find out more.
If you like cartoon-ish pictures or dogs, this book is for you. I like the main character because it is a dog, and a dog is one of my favorite animals. I liked the characters because they do funny things. For example, it was funny when Duke tried to dig, but missed and hit his face on the ground! I felt excited when I read this book because it has so much detail, such as explaining exactly how Duke felt sad and lonely before his owner Sam adopted him. The author's writing style is interesting because the entire book is written in rhyme.
I recommend this book to Kindergarten through second grade. You can also read this for just the fun of it because the words are not too hard to read and it's relaxing. It's fun to see a variety of settings in the town, like the pet store, a highway, and a farm. This book would be rated 5 stars out of 5!