Dork Diaries
Written by Rachel Renee Russell
Illustrated by Rachel Renee Russell
Reviewed by E.E. (age 9)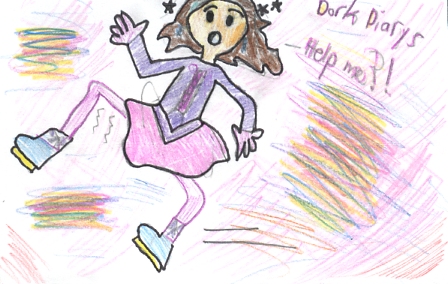 Things have not been going Nikki's way. Her crush Brandon has to move because his favorite store is going to close. If Nikki can keep the store open she can save her crush. But she has no money, so she has to make her own. Meanwhile, at school she wants to break the news to her two besties, well, her only friends, but she was interrupted. The gym teacher spoke up, "Class, we will have a school on ice show. Whoever wins will get a $500 prize." Nikki thought that this was her chance, so she and her two best friends signed up. When Nikki gets to the practice, she hears that the teacher is really strict. She can kick you out of the show. Nikki thought that ice skating was easy. But when she got on the ice, she collapsed. Can Nikki get through 3 practices and 1 show just to save her crush? Well, you will have to read the book to find out!
I love this book because things for Nikki are always out of control! Nikki's crush Brandon moves away, a really cute animals store closes, she has to be in a skating competition and her locker is next to the most popular girl in the school. Nikki is supposed to go to the mall with her two best friends and her mom tells her she has to babysit her really annoying, dreadful sister Brianna. I know exactly how she feels. I was looking forward to going to gymnastics and my mom just comes in and tells me that I have to go to tennis. It's just not fair. This book is really funny. You start the book . . . and you're never going to want to put it down, ever. It's so funny you might fall out of your chair. This character Nikki tries to handle everything at a once. One of the funniest parts of the book was when Nikki's dad and her sister decorated Nikki's dad's car for Christmas. This book is just spellbinding. Things keep happening. You just can't stop them from coming. That's why you have to be a Dork just like me!
I recommend this book because it is funny when Nikki is freaking out about everything going wrong in her life. As the reader, you kind of know what she should do and you say it in your mind. I can relate to this because when I sneak candy I have to hide it from my mom, and in the book Nikki hides things from her mom because she can't handle it. I think this book deserves 10,000 stars!