Ivy and Bean
Written by Annie Barrows
Illustrated by Sophi Blackall
Reviewed by C.R. (age 8)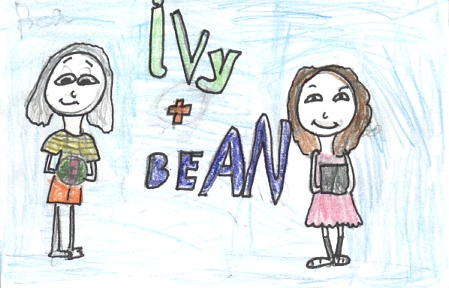 Ivy and Bean is a book full of adventure with twists and turns. Ivy's personality is very interesting and she loves witches. Bean's personality is very funny and strong. Some of the other characters in the book are Bean's older sister, Nancy, Bean's mom, and Ivy's mom. At first, Ivy and Bean ignore each other. Then Bean hatches a plan and needs Ivy's help. It all begins when Bean plays a trick on her sister and needs a place to hide. You will have to find out the rest by reading Ivy and Bean.
I like Ivy and Bean because it is fun and exciting. When you start to read, you will not stop. I like the author Annie Barrows because she writes it in a way that kids can understand. For example, I had a connection because sometimes I get into trouble on my play dates like Ivy and Bean and I love Ivy and Bean.
Ivy and Bean is about how two people can have two different personalities and still become very good friends. Ivy and Bean is a series of fun and adventures. I recommend Ivy and Bean for 1st and 2nd graders, I think they would enjoy it. And if you like adventures, Ivy and Bean is the book for you.