Spy Academy
Written by Tracey West
Illustrated by Tracey West
Reviewed by C.H. (age 9)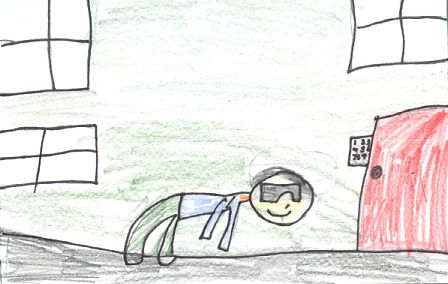 Would you want to be a spy? A boy named Zack wants to be one. He gets a note to come to a spy school. When he gets there, nobody is there. He finds a code to a secret door. Now he is where all the spies are. He goes to his room and finds a briefcase with all his spy equipment. Then he goes to his classes to learn spy stuff. After he finds out that he is a mole (a mole is like a suspect) from the camp that he went to, things get interesting. Read more to find out if he gets kicked out of the spy academy or not.
I think that the best part was when Zack opened his room door and fell in a pool that was a trap. I liked Zack because he did not know that they had lots of traps and he got caught in some. My favorite character is Zack because he is really funny. I think there is a lot of secret stuff in the book that Zack and his friends have to find out, which makes it suspenseful.
I recommend this book to people that like spies. Kids in second and third grade would like it. There are some funny parts like when he went into his room and fell into a trap. I would award this book four out of five stars.