Katie and the Cupcake Cure
Written by Coco Simonian
Reviewed by C.M. (age 8)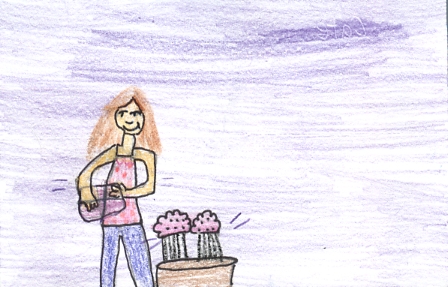 When Katie Brown sees movies, the character is always freaking out about the first day of school. But not Katie. Boy, was she ever wrong to not be nervous! Katie and the Cupcake Cure all starts when her friends ditch her for a group called the popular girls club. Luckily, she finds a new group of friends and they make up a club called the cupcake club. They discover that there is a contest and even though the prize is not going to be a big hit, the cupcake club is still dying to win. Can Katie mix up the right ideas to win the contest? You'll have to read the book to find out!
I recommend this book to people who like cupcakes. I also recommend it to people who get bullied, like when Sydney comes into the book and bullies Katie and her friends. Well, that must be a handful when you meet a girl like that! It is a fun book so I hope people will read it. I could not put it down once I started reading!
I like this book because I connected to the character Katie a lot. Of course, I love, love, love cupcakes! But the book also gives good advice. It teaches you that if you ever meet a girl like Sydney, you should stand up for yourself and your friends. I like when Mia stands up for her friends because she is a good role model for girls who read this book. I think this author does something creative with her settings. In each book in the series, she has a different place where the kids are selling their cupcakes. In fact, I don't just recommend this book, but I love the entire Cupcake Diaries series!