The Lightning Thief
Written by Rick Riordan
Reviewed by A.V. (age 8)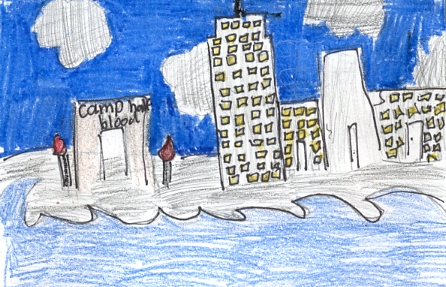 Is there anything you wish you could control? Percy Jackson, a sixth grader, has a strange way of controlling water. He does not realize he is half god. Zeus, one of Mount Olympus' gods, thinks that Percy stole his lightning bolt. Anabeth, Grover and Percy have to go on a quest to the underworld and have to return it to Zeus on Mount Olympus (which is the Empire State Building) by the Summer Solstice, June 21. If you want to find out all the adventures they go on or if they are able to return the lightning bolt on time, read the book to find out.
I like this book because readers can enjoy some exciting fantasy events that happened in this book but will probably never happen in your life. This book is exciting for people that like adventure and suspense. My favorite part is when Anabeth, Grover and Percy go on the quest to return the lightning bolt to Zeus. This book makes me wonder how the author got the idea to write about this subject. His writing style is fiction and fantasy but you also get to learn about Greek Mythology.
I recommend this book to kids that like exciting fantasy books. If you like other books by Rick Riordan, this is the best one yet. It is filled with fun, exciting characters and action to keep you reading!