Stone Fox
Written by John Reynolds Gardiner
Illustrated by Marcia Sewall
Reviewed by A.S. (age 8)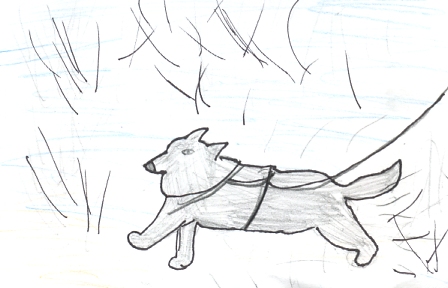 A boy named Willy has a tough life and along the way both sad things and adventure happen. Willy's grandfather is sick so he tries to find a way to make money for the farm. He sees a sign saying "Dog Race: Prize is $500." With his dog named Searchlight, they can win the race. When he signs up, all the people say he won't race. He will never win against the huge mountain man and his dogs. He wins every year. Willy is in the lead and about to cross the finish line. . . You will just have to read the book to find out the surprise ending!
If you like interesting stories, my opinion is that you read this book. If you like dogs, you're in for a ride, cause it's courageous and outrageous. In this book I really liked the character Willy because he had faith in himself and his dog. In Stone Fox, My favorite part is in the middle of the race, when Searchlight pulls ahead. This book made me sad and excited at the end.
If you're into interesting stories, this is the book for you. I recommend this book for 2nd, 3rd or 4th graders. The author explains the characters so well that it almost feels like they're your friend or they're in your class. Please read this amazing story.