The Mysterious Benedict Society
Written by Trenton Lee Stewart
Reviewed by J.W. (age 9)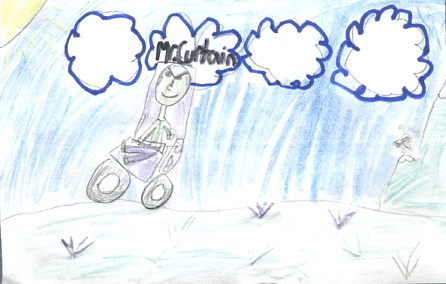 Trenton Lee Stewart wrote this book because of a chess move: "According to the rules of chess, if all the chess pieces are in starting position, except for one black pawn which has moved two spaces down. Is this possible?" The answer is yes. But it means you doubt yourself. The Mysterious Benedict Society is an exciting and adventurous book about evil headmasters and erasing memories. Four children think the problem is coming from a strange boarding school. They go under cover as students at the boarding school. The head masters name is Mr. Curtain, and they think he is the center of all problems. He has made a machine called The Whisperer. The Whisperer can read peoples minds but it can also erase their memory. Reynard Muldoon, Constance Contraire, The Great Kate Weather machine, and Sticky Washington, try to save their friends, family, and most importantly, the world. Read this book to find out if they succeed, or will the world end.
The Mysterious Benedict Society is one of my favorite books. Trenton Lee Steward always gives lots of description when he writes. This book is long, and some people don't want to read an interesting long book. If they read it, they will be happy they did!
I like this book because it has a lot of action. I recommend this book because as soon as you pick it up, you can't put it down. It is also a series. If you like books that you just have to keep on flipping through until you finish it, this is the book for you. I recommend this book to grades 3-7.