On the Field with Derek Jeter
Written by Matt Christopher
Reviewed by K.M.M. (age 9)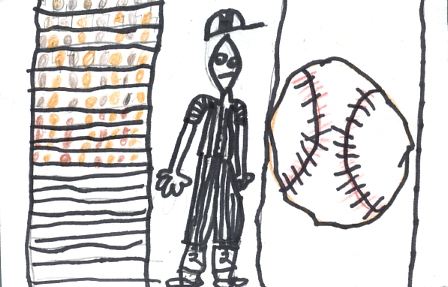 On the Field with Derek Jeter, is about Derek Jeter's life and how he grew up. In the book, Derek Jeter always loved baseball. He started with the Mickey Mantle Little League team. He got better every year, and soon he was playing on the high school team, and got a call. His dream was to one day be on the Yankees. His stats would never be the same as the year before. In 2004, he got 23 homeruns. He hit .324 average, 78 RBI for batting stats. For his fielding stats, his position was always shortstop. If you want to find what that call was about, read this book. It is great.
In the beginning, he told how he loved playing baseball when he was little like I do. I couldn't stop reading the book. I liked learning about Derek Jeter because he never gave up. He kept trying. I couldn't stop reading it because I liked how he told all the scores and stats of each year. In all of the World Series games it showed how all the players tried to be as professional as they can be.
I would recommend this book to kids that like baseball or the Yankees. In the book you find interesting facts. I would think that if you read this book you will be satisfied with reading a biography on Derek Jeter.