On the Field with Alex Rodriguez
Written by Matt Christopher
Reviewed by Z.M.B. (age 9)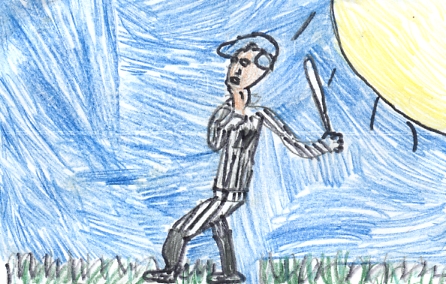 BAM! Alex smacks his first homerun. Alex Rodriguez is a successful baseball player. He has the two most important things which are the strength and the ability to play. Before Alex starts baseball, he lived in the Dominican Republic with his Mom, Dad, brother and sister. One day Alex's dad left the Dominican Republic. Alex didn't see his Dad. Alex was sad. He only had a mom because his brother and sister left for college. He is very kind but does make mistakes in baseball. One day, he caught a ground ball, threw it to first and the ball went too far so the runner advanced to second base. It was an error. Alex was humiliated. But how did he become a major league baseball player? Coach Pinella said "You get vibes from young players. The kid who is scared sits at the end of the bench. This spring when I was ready to make my substitutions, Alex always became highly visible. He would grab a bat or his glove. In his own way he was telling me he was ready". Does he get drafted to the Seattle Mariners or the Los Angeles Dodgers? Well, you'll just have to read this book.
I liked this book because it showed how he got better every year of baseball. My favorite part was how he got his first grand slam against the Detroit Tigers in 1996. I like Alex Rodriguez, because he never gives up in baseball and finishes it up the right way just like me.
I think people should read this book because it shows you what would happen in baseball. You should read this book if you like biographies. I recommend this book for students in third through sixth grade.