How To Eat Fried Worms
Written by Thomas Rockwell
Illustrated by Emily McCully
Reviewed by Z.J.B. (age 9)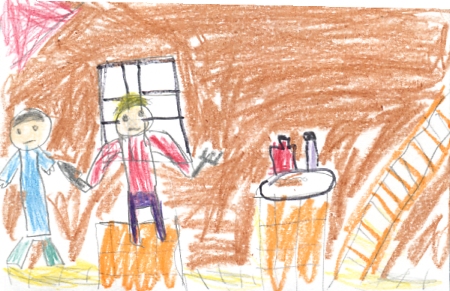 Did you ever wonder what worms taste like? I'll tell you but don't run away! It gets interesting. Alan makes a bet with Billy that Alan will give him $50 if he eats 15 worms. Tom tries to help Billy win the bet by cooking them and covering them with mustard. Also Alan and Joe try to scheme up an evil plan, to make Billy lose. If Billy wins he will buy a mini bike and bike around town. In the end Tom's brother Pete comes to the rescue. Will Billy be able to overcome the worms? Read more to find out what happens.
I thought How to Eat Fried Worms was a good book, because it was exciting and suspenseful. My favorite part was when Alan tried to trick Billy, but failed because it showed what type of person Alan was. Tom reminds me of myself, because Tom helped his friend, and I have helped my friend before. I liked the illustrations in this book because they are detailed. I liked the characters because they were interesting and funny.
I recommend this book because it is full of suspense and action especially when Alan, Joe, Billy and Tom have a huge fight. Also, I recommend this book to people who like exciting endings, short chapters and realistic fiction. This book is for third through fifth graders.