The Twits
Written by Roald Dahl
Reviewed by S.M. (age 8)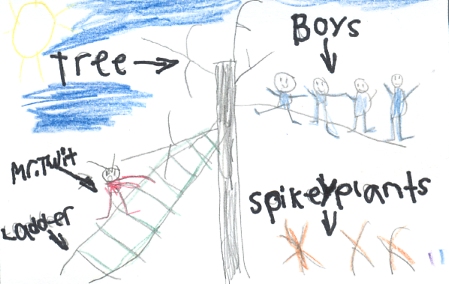 The Twits are evil people who play tricks on each other and are mean to everything! One trick was to make Mr. Twit eat something that was really worms! I thought that was really funny! They also eat birds and make their monkeys stand upside down all day! The birds and monkeys want revenge! Will they get revenge, or will the Twits trick them first?
I liked this book because it was funny and exciting because the tricks they play are weird and funny. It made me think about what kind of tricks the Twits will play on each other. I think the author is creative because of the characters and their characteristics he created. My favorite part is when some boys climb a tree in the Twits' garden and escape from Mr. Twit. You will have to find out how. I think that the pictures are strange and weird, but that is what makes this book fun to read
I recommend this book to people who like excitement, laughs and cleverness. You also should read this because you will see how nasty The Twits really are. I liked this book because it was funny and it was so good I could not put it down.