A Series of Unfortunate Events: The Bad Beginning
Written by Lemony Snicket
Reviewed by M.F. (age 9)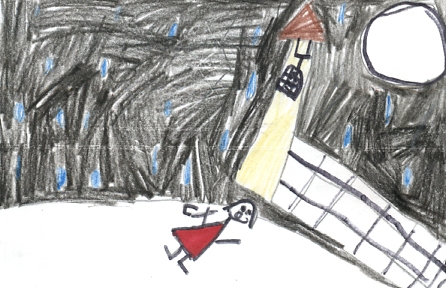 Violet, Klaus and Sunny Bauldelaire are orphans because their parents died in a terrible fire that destroyed their home. So they go to live with a villain named Count Olaf who really wants their fortune that their parents left them. He keeps trying to figure out a way to get it, so he tries to marry the oldest Bauldelaire orphan, Violet, who's only fourteen. And before the wedding, he hangs the youngest one, Sunny Bauldelaire, from a bird cage over a high tower. So Violet tries to save Sunny and ends up getting captured in the tower with a guy with hooks instead of hands guarding the door so they couldn't get out. Then Violet and Sunny get forced out of the tower to get ready for the wedding, and so she signs the paper to marry Count Olaf and does it with her left hand. And Count Olaf always yells "I will find a way to get your fortune Bauldelaires!" Read to find out if Count Olaf really gets their fortune!
Are you felling adventurous? Well this book has lots. My favorite part was when Violet tried to rescue Sunny from the tower. I disliked a couple characters like Count Olaf and his theatre troop, and the people he lived with. I don't like him, because he almost killed the Bauldelaires, and everyone they live with. This book is part of a 13-book series, I liked the book because of all the mysteries. When I read this book, I felt very suspicious and kind of scared.
I recommend this book to people who like suspense and mysteries. I also recommend it to people in grades 3-5. The book reminds me of my family because we never know when someone's going to do something.