There's a Boy in the Girls' Bathroom
Written by Louis Sachar
Reviewed by M.O. (age 9)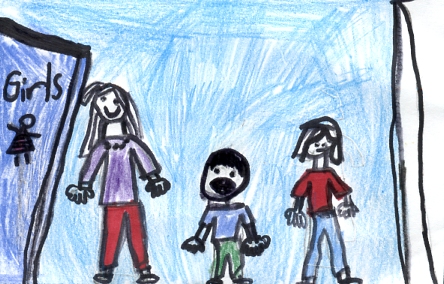 An unmanageable but loveable 11 year-old misfit learns to believe in himself when he gets to know the new school counselor, who is sort of a misfit too. Bradley Chalkers is the main character, and when someone goes in the girls' bathroom, some weird things happen! But you just have to read the book to find out about these weird things that happen. You will just die to find out what goes wrong. Will someone get in trouble?
My opinion about the book There's a Boy in the Girls' Bathroom is … I think it is a great book. I like the book, There's a Boy in the Girls' Bathroom because it has a lot of suspense and action. I also like this book because once you start reading it; you don't want to put it down because it is so good. That is my opinion about this book.
I recommend this book to 9-11 year olds. If you like books that are funny and leave you in suspense, then this is a good book for you. I hope you read the book There's A Boy In The Girls Bathroom.