Hunger Games
Written by Suzanne Collins
Reviewed by E.D. (age 9)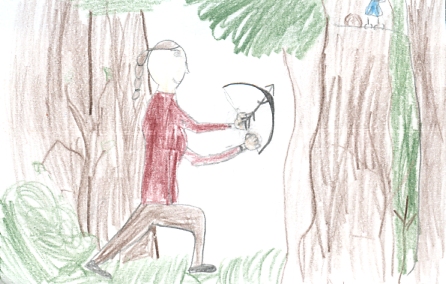 The Hunger Games is about a 17 year-old girl named Katniss Everdeen. Every year, in what used to be called North America, the Capital people host an annual fight to the death with children called "The Hunger Games." The people of the Capital are rich and well dressed, unlike some of the 12 districts of the Capital where the game drawings are held. Something unexpected happens on this drawing. The drawing is an event when they pick the names of a jar of who is going to be in the games. Well you just have to read it to find out.
I liked this book because it was full of mystery and maturity because everything was very fit for older readers. I think that it was surprising because everybody just popped out of nowhere during the games. One of my reactions was scared because at a part of the book big and scary dogs come out! My favorite character was Katniss because she was very hard-working and determined on everything she did. I would like to read this book over again, even though it might take me a month!
I recommend this book to people who are okay with their eyes tiring out as they read, and to people with a catch for mysteries. When you are done with this book, move on to the next. I would recommend this book for grades 3-9 and for kids that don't have trouble with reading, BIG books. Happy Reading!